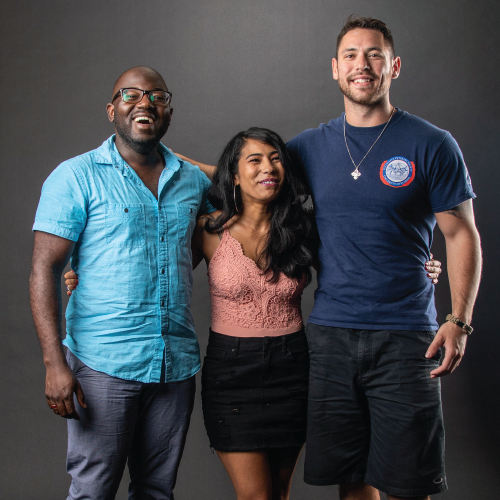 The Collegiate Veterans Success Center provides a space where student Veterans can study together, socialize as a group, and receive services from campus and community resources. This space is ideal since many Veterans find that they are most successful when they interact with other Veterans and Service Members as a means to acclimate to the University and to successfully transition from military life to student life.
Location:
Yon Hall, Room 418
Ben Hill Griffin Stadium
Hours:
Fall & Spring
Monday – Thursday: 8 AM – 8 PM
Friday: 8 AM – 5 PM
Saturday: 10 AM – 6 PM
Summer
Monday – Friday: 8 AM – 5 PM
Phone:
352-294-7233
Email:
vetsuccess@dso.ufl.edu
Website:
veterans.dso.ufl.edu
The University of Florida offers a variety of free services to all students on campus. Whether you need help writing a resume, want to become a more effective studier, or would like to live a healthier lifestyle, there is a campus resource available.
Collegiate Veteran Society (CVS)
The Collegiate Veterans Society (CVS) is a student organization. The CVS is dedicated to helping student Veterans in the transition from military to college life and to enriching the community and campus with Veteran-sponsored and patriotic events. All Veterans, ROTC, and patriotic students are welcome.
Disability Resource Center (DRC)
The Disability Resource Center (DRC) offers a variety of academic accommodations for students on campus. Both Veterans with and without service-connected disabilities may qualify for accommodations. The DRC is the central point of contact for these accommodations, and strives to provide quality services to students with physical, learning, sensory, or psychological disabilities, to educate them about their legal rights and responsibilities so that they can make informed decisions, and to foster a sense of empowerment so that students can engage in critical thinking and self-determination.
UF Teaching Center
The Teaching Center seeks to help students master effective ways of learning for different disciplines. Services include, but are not limited to: walk-in tutoring, facilitator-led group study, and College-Level Examination Program (CLEP) administration.
Career Connections Center
The C3 offers services including, but not limited to: researching and matching labor market indicators that best correspond with learned academic skills, military and work experience, and personal attributes; resume writing; and developing interview techniques. This resource may be especially beneficial for Veterans seeking to translate military job experience to the civilian workforce.
Counseling and Wellness Center (CWC)
The primary focus of the CWC is on providing brief, confidential counseling aimed at helping students succeed academically and interpersonally.
Dean of Students Office
The University of Florida Dean of Students Office creates a culture of care for students, families, faculty, and staff by providing exemplary programs and services designed to enhance student academic and personal success.
GatorWell Health Promotion Services
The GatorWell Health Promotion Services educates, empowers, and coaches students to make healthy decisions, and provides leadership and advocacy for health-enhancing policy.
UF Libraries
The Libraries offer key services at the point of need to meet the requirements of the university enterprise, initiate and participate in collaboration and community building, and assure effective, efficient and equitable access to pertinent information resources for all library users. Students can receive support via the Libraries subject guides and specialists, reference and research assistance, workshops and instruction sessions, and numerous other services provided to support student success.