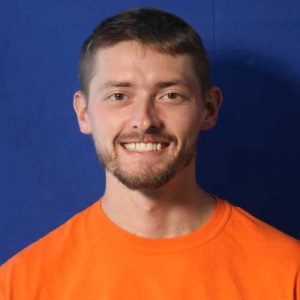 My name is Edd Davis, I served 5 years in the Marine Corps (oorah!) and now I study Electrical Engineering at the University of Florida. I enlisted in the Marine Corps because I wasn't good enough for the Air Force. Soon after, I realized that the Air Force wasn't good enough for me. Since transitioning from the Marine Corps, I changed my career goals to work with Neuro-prosthetics and their integration into the nervous system. I am currently volunteering in a lab under the ECE Department, which does exactly that and I couldn't be happier with my decision to attend UF!
The Collegiate Veterans Success Center has given me a space on campus to socialize in a manner similar the Marine Corps but also has fellow student veterans for me to share my stresses from college life as well. Having a social group that understands my stress makes stress management much easier and ultimately leads to a happier and healthier life situation. While I'm at the center I spend my time socializing, drinking coffee, and attending the recruiting events they have throughout the semester. The ability to speak to recruiters in a more personal and intimate environment has helped me identify what they're looking for in applicants so that I can speak to those qualities.
My transition into college life was Hellish. I began my journey in academia at a St. Petersburg College where I had to relearn algebra and how to use commas; I still don't fully know how they work. I transferred to UF after earning my Associate degree. However, I wish I had this support network back then to help me through my struggles and reintegration into civilian life. The collegiate Veterans Success Center has helped me by providing supplemental income as a VA work-study and a social group who understands my stress both military and academically related. This opportunity has greatly eased the stress of UF and I believe made my success possible.
One specific example of our VetSuccess on Campus Counselor, Charlotte, positively impacting my time at UF is, Charlotte acted as a liaison on my behalf to make sure that I had been scheduled for medical tests requested by my VA doctor when they were not correctly scheduled at the VA Hospital.
On top of that, Charlotte is locally available to help me with any questions regarding GI Bill payment discrepancies or other benefits available to me by the VA. Charlotte also helps me communicate my Veteran benefits to UF as well and with her conveniently located near my usual hang out place is just icing on the cake!