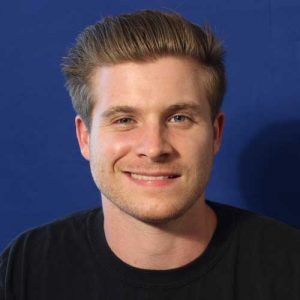 My name is Joseph Schwartz and my major is finance. I'm a dependent with my dad being the Active Duty member. I grew up with my dad's career being a military officer.
The transition into the college life has been somewhat a smooth transition since I always had a strong support network. The center added to the support network I already had established, but through the center, I met some awesome people who I consider to be mentors. In a positive manner, it made me hangout with people who weren't my age and forced me out of my comfort zone at times.
The CVSC has been a place where I have learned how to manage the different roles (work/school) of my life while at school. It's definitely been beneficial in going as a student because of the people I have met as a result of working here.
A key figure at the center is Charlotte Kemper who has acted as a voice of reason and was always there for advice as well as a great resource for questions about benefits etc. I think having a counselor on campus is very important to mine and the Veterans success on campus.